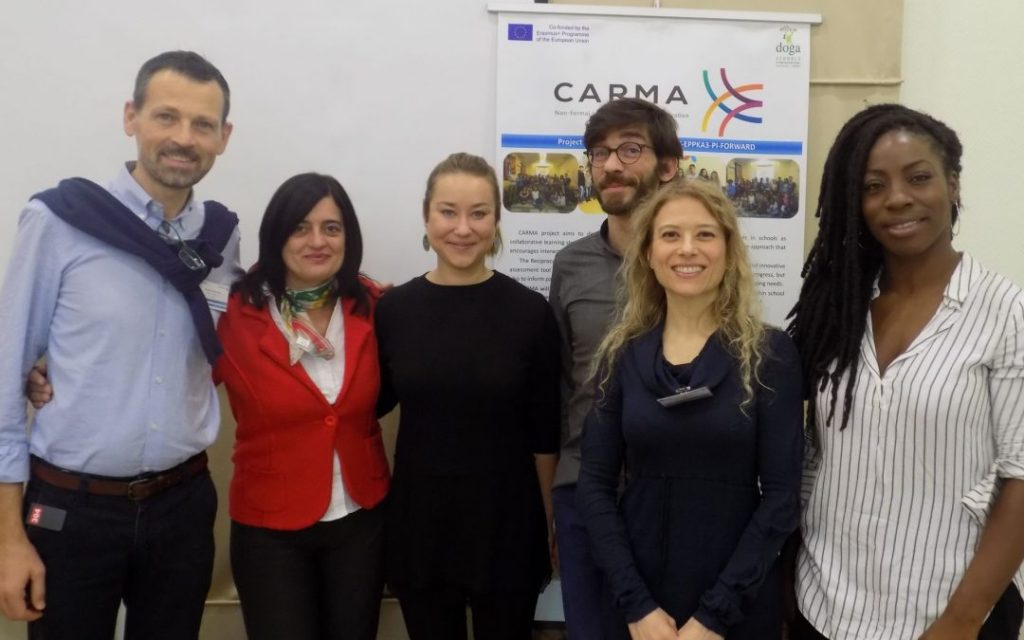 CARMA – EVALUATION SEMINAR IN ISTANBUL
How to transform the scholastic practices to favor interaction, creativeness and the mutual learning between teachers and students?
On 22nd – 23rd3 November 2017, teachers from 7 countries were together again after one year of starting their journey with the CARMA project.
The CARMA journey has been challenging, inspiring and collaborative. After meeting in Palermo in October 2016 for the European Workshop on collaborative competences, teachers for one year have been testing and implementing non-formal techniques and the Reciprocal Maieutic Approach at their schools with their students.
CARMA Evaluation seminar was held in Istanbul (Turkey) and being hosted by DOGA schools allowed teachers to see and learn from the practices used at DOGA schools. During the two days of the seminar, teachers discussed on what they have learnt, what has been an impact of non-formal methods on their students and themselves, and what they can do next to support the transformation of school practices.
Teacher Barbara from the Institute Duca Abruzzi Libero Grassi shares her experience about the CARMA Evaluation seminar:
"Those days in Istanbul, at the CARMA Evaluation Seminar, will stay in my mind as an everlasting enrichment. Meeting again dear colleagues, exchanging ideas and points of view, comparing methods and experiences, trying to overcome the limits of familiar traditional teaching methods, I perceived all that as a part of a bigger programme to work on future good citizens in order to build up a better and still livable society. As educators we can't ignore that times are changing – have changed – and we have to do the same. The old, rigid way of teaching/learning should be replaced by or at least integrated with the informal ones. As well as children, also students learn (better) by natural exposition, by learning by doing, by having all the senses stimulated, by using direct experience, or through maieutic, for example. And I don't know if it is a new way of teaching/learning, because it was already and successfully used in ancient Greece by Socrates. But for sure I know that there's nothing to be scared of, or doubtful about, in using NFL methods. They are appreciated by pupils and teachers, they are useful to manage our actual educational reality, and moreover. They work. They succeed in motivating students, in making them aware of their need to learn, grow, cooperate, and create a collaborative group in their present class and possibly in their future world.

My participation in the Seminar, even in such enchanting city and in such challenging environment, has not been a "pleasure trip", because those days were hard work, with non-flexible times, and needed concentration and a big use of energy. But you know what? I didn't feel it as a loss, but as a gain.

My mind is broader (but not so much to make my brain run away, I hope!), my natural curiosity has been fed, my very motivation to teach has grown up, and I've come back to my pupils as a stronger teacher and hopefully as a better human being.

The great Umberto Eco used to say that "Culture is Memory of Experience". Let's experience, then."
The CARMA project, that was launched in January 2016, is about introducing non-formal educational methods into formal school environments with the aim to transform classroom practices so to increase the motivation and engagement of students
After the Evaluation Seminar, on the 24th November 2017, CARMA partners held the fourth partnership meeting where partners discussed the upcoming steps of the project, the development of the resources for teachers and policy makers and how to promote the impact of CARMA on educational systems and inform policy change Now, that a full evaluation of the impact has taken place, the results show that the project proved to bring an added value to school communities, and it is important to empower more schools across Europe that motivate students through the use of non-formal learning methods.
The CARMA project is co-funded by Erasmus+ KA3: Support for policy reform, Prospective Initiatives Forward-Looking Cooperation Project and addresses the promotion of "innovative, collaborative teaching and learning" within school education.
Follow the project on Facebook or visit carma-project-eu.
For further information, please contact Rosina Ndukwe: [email protected].